FILOSOPHIES
Profit has become a dirty word!
Assets are no longer important!
Company valuations are strange!
Mega-big is best!
Multi-rich is fast!
Promises are cheap!
Love is in the options!
Life is like a roller coaster!
Trading is on line!
Gambling is all around!
Who knows – I may never understand it, but I did it my way and I am sure
that-
Nothing is forever!
Nishto ne e vechno!
"When a great man dies, for years the light he leaves behind him, lies on the paths of men."
— Henry Wadsworth Longfellow

1 year has passed since the sudden death of Fil Filipov.
Commemoration mass and ceremonies will be held on 25 August 2023 in USA and Europe.
Remembering and honoring Fil Filipov on this day.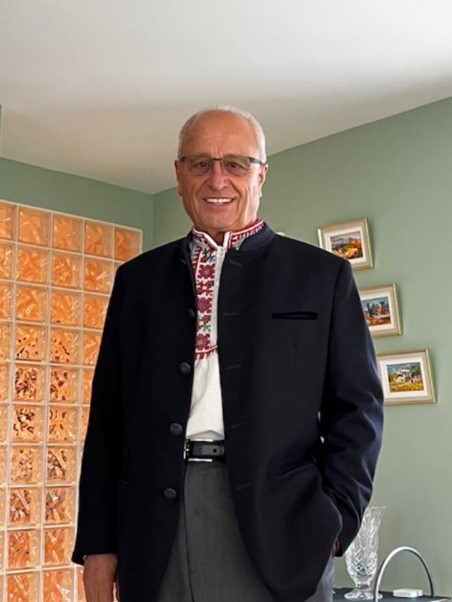 We are sad to announce the sudden death of Fil Filipov at the age of 75. He fought a very aggressive cancer for two months and lost the battle. Fil lived a full life along with Véronique, his wife for 35 years, 24/7, and had many projects, but "Nishto Ne E Vechno" (Nothing is forever.)
In this period of inflation, the end of the holidays and travel difficulties, it is Fil's wish to have a private burial with very limited attendees.
A 20-minute ceremony at Fort Lauderdale will be streamed on www.Atlasgmbh.com and www.filosophies.com and saved for replay.
Additional tributes to his life will be held in Chicago, Ganderkesee (Germany) and Strelcha (Bulgaria).
Please respect Veronique's privacy during this difficult time.
# # # # #
Nous avons la tristesse d'annoncer le décès soudain de Fil Filipov à l'âge de 75 ans. Il a combattu un cancer foudroyant pendant 2 mois et a perdu la bataille. Il a vécu une vie bien remplie avec son épouse Véronique pendant 35 ans, sept jours sur sept et a eu de nombreux projets mais "Nishto Ne E Vechno" (Rien n'est éternel).
En cette période d'inflation, de fin de vacances et de difficultés de déplacement, le souhait de Fil est d'avoir un enterrement simple avec un nombre limité de participants.
Une cérémonie à Fort Lauderdale de 20 minutes sera diffusée sur www.Atlasgmbh.com and www.filosophies.com et disponible en replay.
D'autres hommages seront organisés à Chicago, Ganderkesee (Allemagne) et Strelcha (Bulgarie) à des dates ultérieures.
Merci de respecter la vie privée de Véronique pendant cette période difficile.
# # # # #
Wir haben die traurige Pflicht, Ihnen mitzuteilen, dass Fil Filipov völlig unerwartet im Alter von 75 Jahren verstorben ist. Nach einem zweimonatigen Kampf mit einem sehr aggressiven Krebs hat er nun doch die Schlacht verloren.
Fil hat ein erfülltes Leben geführt mit seiner Frau Véronique, die 35 Jahre an seiner Seite war, rund um die Uhr, sieben Tage die Woche und er hatte viele Projekte; aber "Nishto Ne E Vechno" (Nichts währt ewig).
In dieser Zeit der Inflation, dem Ende der Ferien und der Reiseproblematik ist es Fils Wunsch, in privatem Kreis mit sehr wenigen Trauergästen bestattet zu werden.
Eine 20-minütige Zeremonie in Fort Lauderdale wird auf www.Atlasgmbh.com und www.filosophies.com gestreamt und zur erneuten Wiedergabe gespeichert.
Zusätzliche Würdigungen seines Lebens werden in Chicago, Ganderkesee und Strelcha (Bulgarien) stattfinden.
Bitte respektieren Sie die Privatsphäre von Frau Filipov in dieser schweren Zeit.
# # # # #
С прискърбие съобщаваме за внезапната смърт на Фил Филипов на 75 години. Той се бори два месеца с много агресивен рак и загуби битката. Фил живееше пълноценен живот заедно с Вероник, съпругата му в продължение на 35 години, 24/7, и имаше много проекти, но "Нищо не е вечно" (Nothing is forever).
В този период на инфлация, края на празниците и трудности при пътуването, желанието на Фил е да има частно погребение с много ограничен брой присъстващи.
20-минутната церемония във Форт Лодърдейл ще бъде предавана на www.Atlasgmbh.com и www.filosophies.com и запазена за повторение.
Допълнителни церемонии ще се проведат в Чикаго, Гандеркезее (Германия) и Стрелча (България).
Моля да зачитате правото на уединение на Вероник в този труден момент.

Simple things and hard work are keystones to a winning business strategy!
21782 Days since Escape to Freedom
КОГАТО НЕЩАТА НЕ ВЪРВЯТ, ВИНАГИ ПРИЧИНАТА Е НА ВЪРХА
When Things Go Bad, the Reason Is Always on the Top
Fil Filipov @ buten un binnen
Click here to watch the movie
Click here to download transcript EN
Click here to download transcript DE

Fil Filipov at BIT TV
Click here to watch the movie

Schalkenbosch Vineyards
We are pleased to have had the opportunity to acquire the Tunneling Equipment, Cylinders, Hydraulic Tanks and Steel Fabrication Business Units from Terex.
Fil & Veronique Filipov
more
Filosophies is now available on Amazon.
With highly motivated employees, a great deal of commitment and expertise Atlas Maschinen develop successful excavator technologies. more
FILOSOPHIES IS NOW Free TO READ OnLine or DOWNLOAD!